The RCD switched socket is a 13A switched socket outlet
with an integrated residual current device. The passive
tripping mechanisms provide additional protection against
electric shock. It is suitable for residential, commercial and
industrial installations; ideal for installations where safety
and power continuity is of utmost concern.
Electric shock risk level is higher if there is a reduction in Body resistance.
Protect your loved one at home by installing RCD Switched Socket Outlet at each final circuit.
Product features
– Switched socket outlet with extra safety against electric shocks
– Instant disconnection when there is current leakage
– Built-in test button
– Ease of replacement of existing socket outlets
– Ease of use with neon and trip indication Safety features
– Built-in test button
– Continuous protection
– Loss of earth cable connection
– Residual current detection (between 5mA to 10mA) and 0.2s trip speed
– Reversal polarity protection
Safety features
- Built-in test button
- Continuous protection
- Loss of earth cable connection
- Residual current detection (between 5mA to 10mA) and 0.2s trip speed
- Reversal polarity protection
Specifications
Standard: BS 7288
Operating Voltage: 230V +15%-10% -50Hz
Load Current: 13A resistive
Trip Speed: Not more than 40ms at 5 times rated tripping current RCD Trip Current: 10mA
Circuit Fault Breaking Capacity: 1500A
Earth Fault Breaking Capacity: 250A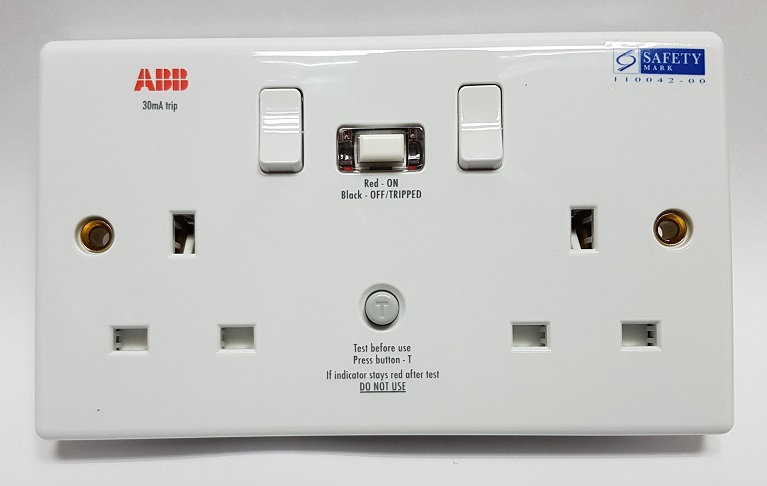 PLACES INSTALLED WITH RCD SWITCHED SOCKET OUTLET